WhatsApp video status & video sharing with admin panel android applica

​

WhatsApp video status & video sharing with admin panel android application

Script version: Android | Demo link: https://hidecanyon.net/item/whatsapp-vid...n/22066602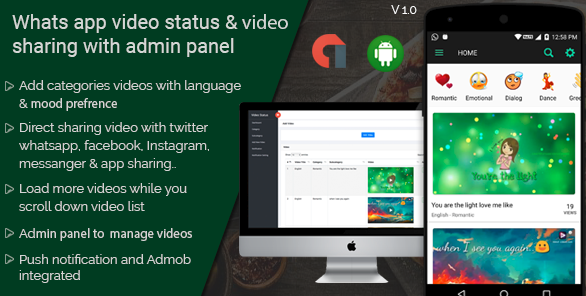 WhatsApp video status & video sharing with admin panel is android application where you can upload videos from backend with diffrent categories like love, romance, funny, sad, or any other mood prefrance.. user can watch this videosdownload and share to whatsApp, facebook, twitter, instagram, messanger and any other social media. user can keep track of downloaded videos also..
Application features :

Search video status
load more videos while scroll down
complete video details with category and views
Admob banner within video list
Stunning UI looks
Home page with category slider
Video Playing on app
Video details like name, category
Number of views & download of video
Video language & category specification
More video suggestions from category
Download video to local with progressbar
Share video on whatsApp
Share video on Facebook & messenger
Share on any social network
Search videos using mood prefrence
Find popular videos
Categories for language and mood
Find your downloads
Settings to manage apps
Ask user to rate your app
Ask user to share app
User request video via email
Register user with profile picture
Download video with progress of download
Track all downloaded videos
Settings to manageapp & searching
Push notification with firebase
Image Push notification
RTL support
Admin Panel Features :

Informative dashboard
List of videos + add new videos
List of categories + add new categories
List of sub category + add new sub categories
Push notification setting
Send text push notification
Send video promotion push notification
You agree that the content you download here is only for testing purpose and shouldn't be used for commercial use or as a final product on a live site.